Event timeline - 1900 to 1942
The period from 1900 to 1942 recorded several momentous calamities, peaking with the 1931 Napier earthquake (7.8 on the Richter scale) that took 256 lives. However other tragic events included the 1929 Murchison earthquake that killed 17 people.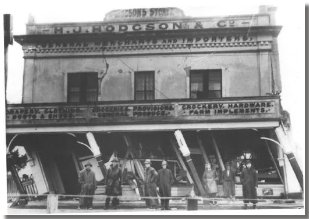 On a cold, foggy mid-winter morning of 17 June 1929 a 7.8 magnitude earthquake hit Murchison in the South Island. The shaking was felt as far afield as Auckland and Dunedin and caused widespread panic, alarm and damage.
In the tiny township of Murchision and surrounding districts, 17 people lost their lives in a quake described by one resident as accompanied by "the whole air vibrating with an inconceivable tumult of groanings" (in the left photo a Murchison hotel after serious sideways movement).
As people rushed outside, unable to stand on the heaving earth, chimneys fell, water tanks hurtled from their stands, hillsides were stripped of bush - whole slopes were seen to move forward, as the land slipped and crashed, blocking roads and rivers. An area of land almost 30 kilometres long and 80 kilometres wide was lifted 30 centimetres. Bridges were thrown out of alignment and became unusable, and there were heavy livestock losses.