Event timeline - pre 1900
In Aotearoa New Zealand earthquakes were considered to be the movements of the God of earthquakes and volcanoes, Ruaumoko, son of Ranganui (the sky) and Papatuanuku (the earth).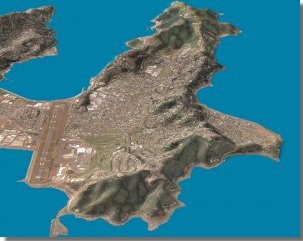 In the period before lasting European habitation, mentions of earthquakes and other natural calamities were occasional and fleeting, but about 1460AD a mighty earthquake, known to Maori as Haowhenua - the land swallower or destroyer - lifted from beneath the sea the piece of Wellington land now known as Miramar Peninsula (in the left photo).
Early settlers and explorers of the country recorded seismic activity in areas such as the Marlborough Sounds, Fiordland and Northland. In 1815, a considerable number of severe earthquakes struck the Fiordland area, with sealing and oiling parties recording the events in personal diaries.
The first recorded earthquake in a settlement was that in 1843 at Whanganui, followed in 1848 by an earthquake striking the fledgling Wellington colony. The much larger earthquake of 1855 devastated areas of the Wairarapa and Wellington and was recorded as being between 8.1 and 8.2 on the Richter scale. This earthquake resulted in the loss of a dozen lives, and luckily this number was low due to the time of the quake as well as the predominant use of one level timber dwellings.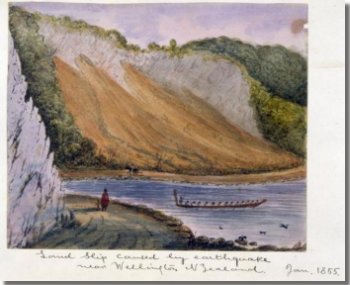 The 1855 earthquake was centred in the south-west Wairarapa, about 25 kilometres east of Wellington, and the worst damage occured in Wellington, the Hutt Valley, Whanganui and the north of the South Island.
It was felt as far away as Canterbury at Banks Peninsula and as far north as White Island. There was also damage to buildings reported in New Plymouth.
When Mount Tarawera erupted in the early hours of 10 June 1886, killing 153 people and destroying the famed Pink and White Terraces, it was earthquake shocks at 12.30am in the morning that first woke people in the surrounding areas. The Tarawera earthquakes were felt strongly along the Bay of Plenty Coast, at Taupo and other central North Island areas.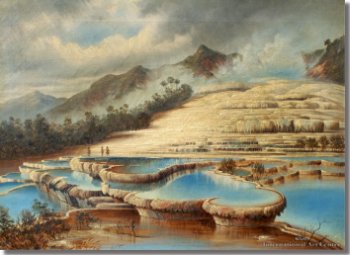 The tremors themselves were accompanied by loud rumbling noises and many buildings suffered structural and contents damage.
The Bay of Plenty Times reported that "The very fact of these shocks having taken place would have been enough of itself to alarm the inhabitants of Tauranga, where such disturbances are of rare occurrence, but the frequency and severity of these, and the rumbling noises accompanying them left but little doubt that some internal commotion of unusual extent and violence was going on".
[Some material sourced from "The Shaky Isles" by Anna Rogers published 2013]
Go to the Event timeline page for 1900 - 1942