Next generation of scientists excel in the CRISiSLab Challenge
Wellington College students have claimed the top prize in the CRISiSLab Challenge(external link), with their wave detection system, demonstrating how technology can support disaster management.
The annual competition is organised by CRISISLab at the Joint Centre for Disaster Research of Massey University and is funded by Toka Tū Ake EQC, NIWA and Resilience to Nature's Challenges. It aims to encourage young people into science, technology, engineering, and mathematics (STEM), and had a theme this year of tsunami detection.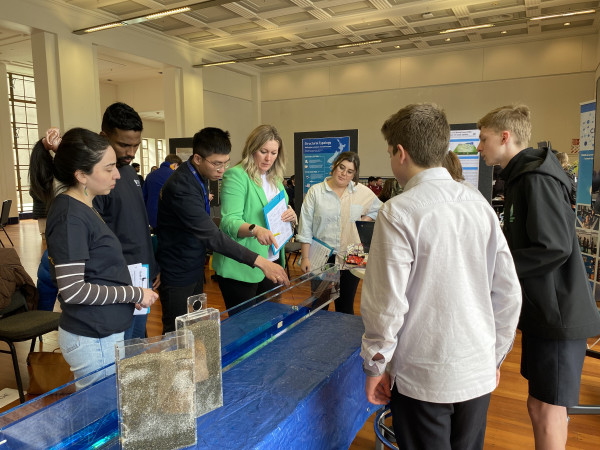 Sarah-Jayne McCurrach, Head of Risk, Reduction and Resilience at Toka Tū Ake EQC and one of the judges, was thrilled to see so much interest from our schools in the Wellington region, with twelve teams from ten schools competing for the win.
"It was heartening to see the impressive calibre of students competing, particularly because of my own personal involvement in the development of New Zealand's first tsunami monitoring and detection network (DART Buoys)," says McCurrach. "Toka Tū Ake EQC is pleased to be able to help give them exposure, experience, and the opportunity to learn about the technology behind our sciences, knowing that it can open the door to a world they may not have even thought about yet."
Wellington College senior students - Mihir Ojas Rallapudi, Alex Vautier and Brian Ngan - impressed the judges with their wave detection system, winning a month-long internship with CRISiSLab. They hope to follow in the footsteps of previous winners, who have subsequently been recruited as research assistants.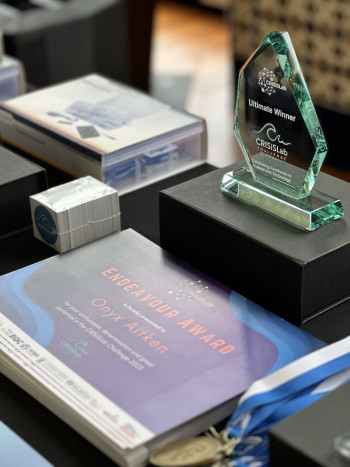 Dr Marion Tan, leader of the CRISiSLab Challenge says, "It is amazing to see what gets achieved during the challenge and to think what could be brought forward in the future of technology and earth sciences. We need more young people in science and disaster management. They're the next generation of scientists and the link between innovation and our future preparedness."
Out of the 12 teams from 10 colleges, St Bernard's College won the Best Data Display, Wellington College No.1 Team won the Best Presentation, Hutt Valley High School won the Best Design and Innovation, Wellington College Senior Team won the Best Wave Sensor Performance.