Toka Tū Ake co-sponsors Aotearoa New Zealand's 10th national ShakeOut drill
New Zealanders can once again practice their Drop, Cover and Hold skills as part of the 10th anniversary of New Zealand ShakeOut drill on 27 October 2022.
New Zealand ShakeOut is a partnership between the National Emergency Management Agency (NEMA) and the Toka Tū Ake EQC promoting the right actions to take during an earthquake and tsunami.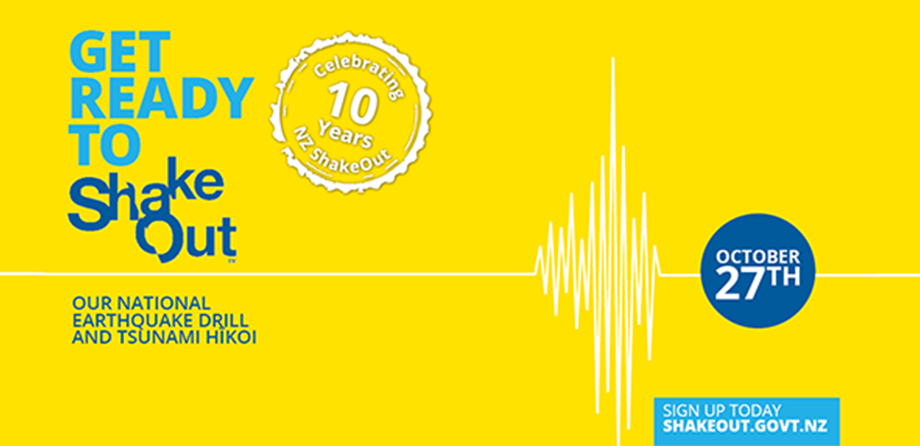 Toka Tū Ake Chief Executive, Tina Mitchell says the success of ShakeOut over the past 10 years has been an important part of getting New Zealanders prepared.
"ShakeOut reminds us that we can do something about our earthquake risk. Taking time to think about how hazards could affect us and taking steps to prepare are what make a big difference in disasters," Mitchell says.
Over the last decade, over a million Kiwis have come together to Drop, Cover and Hold through ShakeOut. Those located in coastal areas can also practice their tsunami hīkoi evacuation routes as part of the national drill.
Toka Tū Ake Chief Resilience and Research Officer, Dr Jo Horrocks says education around preparedness plays a huge part in helping minimise the impact future natural hazards have on communities.
"Our beautiful land is one of the highest-risk countries in the world for a range of natural hazards, but there is a lot we can all do to prepare for them," says Dr Horrocks.
"Taking a bit of time to think about how hazards could affect us at home, work or school, and then taking steps to prepare – these are things that will make a big difference in a disaster," she explains.
Drop, Cover and Hold is the right action to take in an earthquake. It stops you being knocked over, makes you a smaller target for falling and flying objects and protects your head, neck and vital organs.
Sign up your business, school, household or community to ShakeOut in 2022 – it only takes two minutes. Visit www.shakeout.govt.nz(external link) to learn more.