A guide to your EQCover claim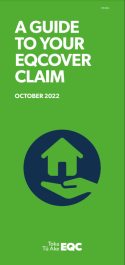 A guide to your EQCover claim provides a step-by-step guide to the EQCover claims settlement process. It answers some of the questions most often asked about EQCover.
The guide tells you how to make a claim and how Toka Tū Ake EQC will manage your claim.
If your claim is managed by your insurer, this provides a high level outline of what you may expect. For the detailed process, contact your insurer for more information.
---