Researching natural hazards
New Zealand is at risk of many types of natural hazard. Before you buy a new home, find out which hazards are most relevant to the property you're considering and how the risk of damage might be reduced.
Find out more about natural hazards in your area (external link)
Landslides
Landslides are one of the most common disasters to affect residential properties in New Zealand.
A home built on a hill, or near a steep hill, could be affected by landslides due to an earthquake or heavy rain from a storm. As well as checking slopes and retaining walls on the property, consider whether a landslide on neighbouring land might affect you.
Contact the local council as they might have information about areas that are more susceptible to landslides.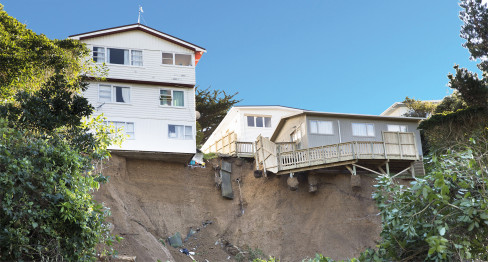 Earthquakes
All parts of New Zealand are at risk of earthquakes and some regions are at higher risk. These areas are close to the boundary where the Australian and Pacific Plates meet and earthquakes are more common.
Each earthquake is different and the way the land moves can affect how a building might perform.
Earthquakes and houses
Even smaller earthquakes can be damaging to a home depending on the home's design, construction and land it sits on. Pay attention to features such as chimneys, foundations and retaining walls, noting their construction and quality.
Certain features could make some homes more susceptible to damage. These include:
houses on slopes with large open internal spaces, large windows along one wall and a lot fewer windows on the back wall
pole houses on slopes with limited foundation bracing
houses with more than one type of foundations (for example, a combination of concrete slab foundations and timber piles)
houses with irregular design shapes or several split levels
unreinforced brick or concrete masonry chimneys
double skin brickwork and unreinforced concrete block walls.
If you're interested in a home with these features, ask a structural or geotechnical engineer to assess the level of risk.
Find an engineer on the Engineering New Zealand website. (external link)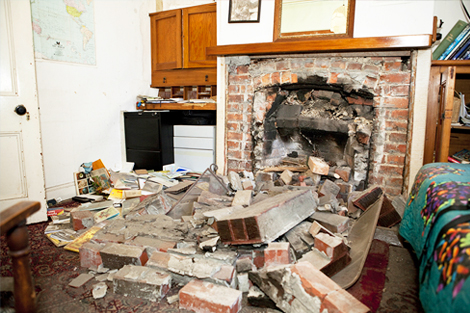 Earthquakes and land
When thinking about earthquakes, find out if the land the home sits on could be affected by:
liquefaction (where liquid, sand and silt rise up from the ground)
lateral spread (where land which has liquefied land pulls apart or cracks)
changes in level or landslidess
Check with the local or regional council for information on areas of land that might be at greater risk of earthquake damage.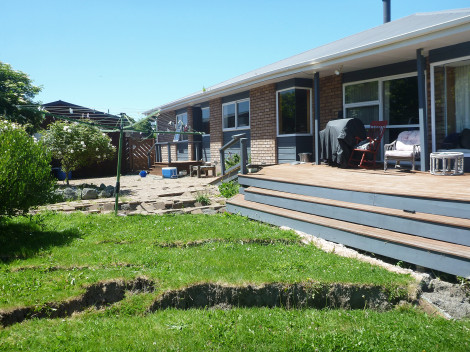 Flooding
Floods can cause significant damage and homes in low-lying areas near waterways are generally more at risk. How vulnerable a home is to flood damage depends on its floor level in relation to the predicted flood level.
Ask the local or regional council for a flood plain map; these are usually available free of charge. This will show whether the property you're interested in is in an area at risk of flooding. You could also order a Land Information Memorandum (LIM) report from the local council.
Toka Tū Ake EQC insures a defined area of residential land for flood and storm damage where there is a current private insurance policy for the home that includes fire insurance (and most do).
Find out more about flood damage and what Toka Tū Ake EQC covers at Storm or flood damage: What we cover.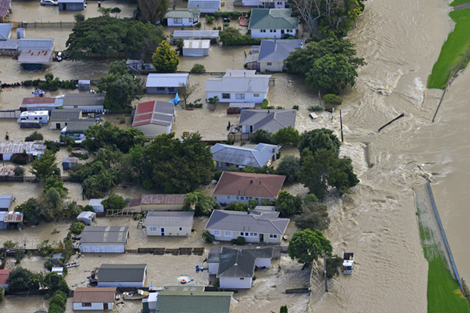 Tsunami
The likelihood of a severe tsunami affecting New Zealand is low, but even a small tsunami can affect properties in low-lying areas. If you're thinking of buying a home close to the coast or near a river, find out if it is in a tsunami zone.
Some councils use blue lines on roads to mark how far a large tsunami might reach. Contact the local council or Civil Defence emergency management office to find out more about tsunami risk for the area you're interested in.
Find out more about tsunami and their effects on the GNS Science website.(external link)
Volcanic eruptions
New Zealand is an active volcanic region and while eruptions (and the earthquakes that often precede them) are rare they are also unpredictable.
Damage to homes from volcanic activity could come in the form of falling ash, lahar (mudflows), pyroclastic flows (a flowing mass of hot gas and rock), landslides and fire. Most damage is likely to affect homes near an active volcano, but wind can spread ash over large distances causing damage to homes outside of volcanic zones.
New Zealand's volcanic centres are well known and shown in the map below. Check with the local or regional council for information on whether the area where you wish to buy is at greater risk of damage.
Read about New Zealand's volcanoes on the GNS Science website.(external link)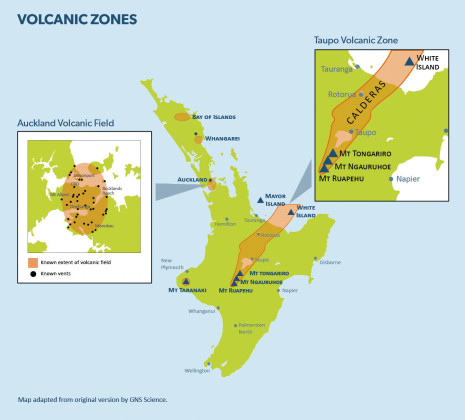 Hydrothermal activity
Most of New Zealand's hydrothermal activity occurs in the North Island's Taupō Volcanic Zone, an area that extends from Whakaari/White Island to Mt Ruapehu. Hydrothermal activity, in the form of hydrothermal eruptions, ground subsidence and emissions of gas, poses risks to homes and land.
When viewing a property, watch for warning signs, such as:
patches with grass dying
unusually warm or cracked hard surfaces, such as paths and driveways
holes, steam from the ground or hot surfaces and ground water